Harmony From Our Hearts …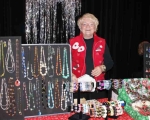 … as well as voices. In the spirit of this line from the Harmony Creed, the Capital Chordettes contributed items to fill over 2 dozen Christmas gift bags, which were delivered to Cornerstone (provider of shelter and supportive housing for women) by organizer Flo Roy. Chordette members also donated funds raised on rehearsal evenings, including paying for the privilege of singing "loonie" tunes at our Christmas party!
---
Caroling at the Rideau Centre – December, 2012

Christmas Chicks


Ginger Snaps


Holiday Harmony

Three carolling groups from the Capital Chordettes took turns strolling through the Rideau Center this December 2012 bringing wonderful songs of the season to appreciative shoppers. The Ginger Snaps took a break from singing to have a photo taken with Santa.
---
Sunday, Dec 2, 2012 Shenkman Arts Centre
What better way to start the Holiday Season than singing Christmas Carols and sharing them with the community! Here are the Capital Chordettes spreading glorious sounds of the season in 4 – part harmony at the Shenkman Arts Centre's unique holiday arts event.
People passing by joined in singing their favorite songs as the Chordettets, dressed in their festive Christmas vests sang songs like White Christmas & Santa Claus is Coming to Town. A totally enjoyable afternoon of music, fun & friendship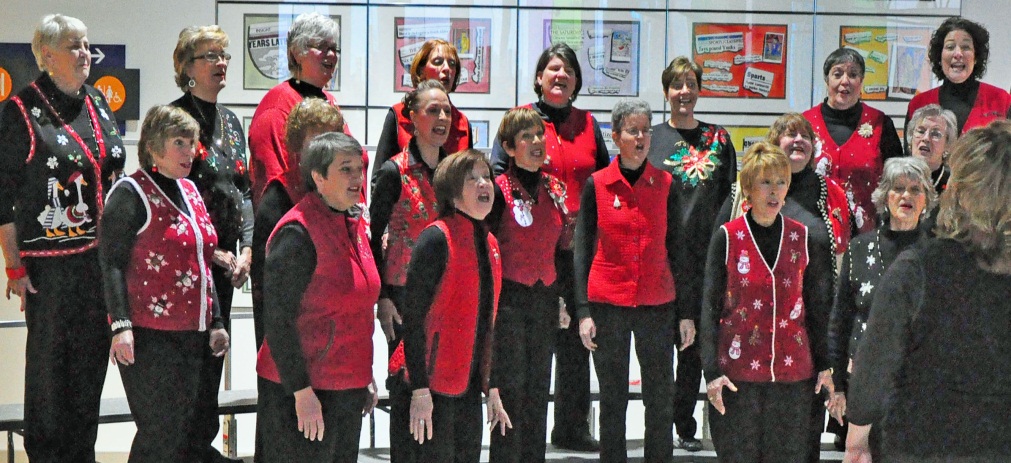 ---
Tis the season to be Jolly!
Christmas Craft Auction and Concert – December 1, 2012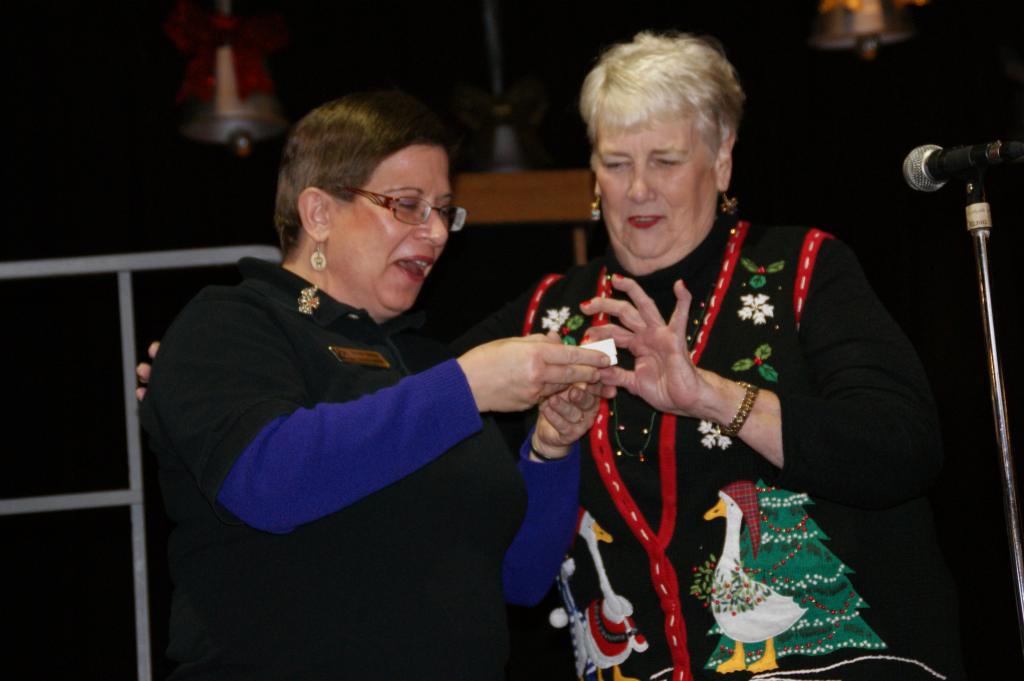 The Capital Chordettes entertained an appreciative audience with seasonal favorites at its Christmas Craft Auction and Concert, held at the Ron Kolbus Centre on December 1, 2012. In addition to great singing, the Chordettes offered a variety of gift items at craft, jewellery and bake tables, in a basket raffle, and in live and silent auctions. A highlight of this annual event was the presentation of a donation to the Capital Chordettes' chosen charity, Children At Risk.
---
Capital Chordettes Celebrate Halloween by "Carving for the Cause"!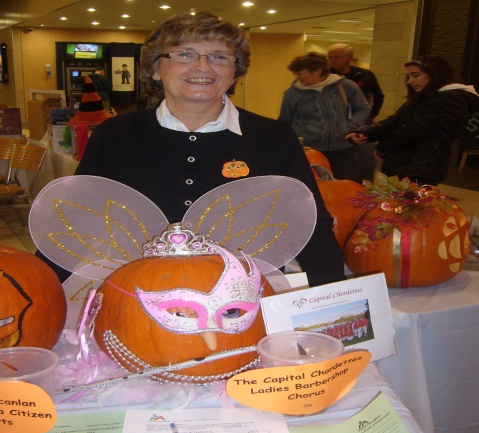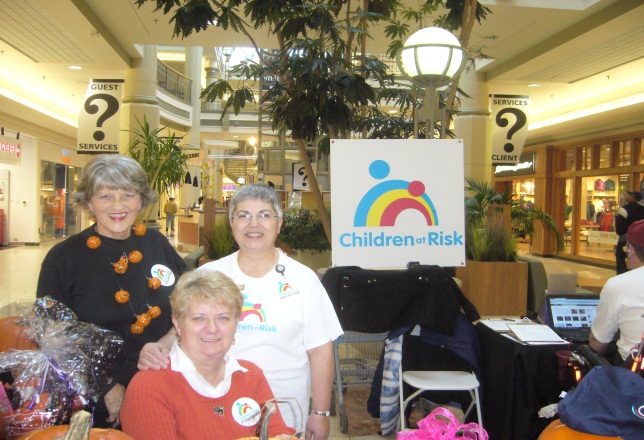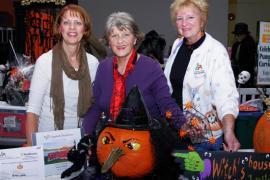 October 25-28, 2012 — Halloween turned into fundraising fun for the Capital Chordettes as they entered two pumpkins and manned the display tables in Ottawa Malls in the Celebrity-Carved Pumpkin Contest for Children at Risk.

Crafted by Sue Kellison, the "Pitch Witch" and "Princess Piccolo" gained attention from children and adults as they bid for their favorite pumpkin.

Autism is the charity of choice for the Capital Chordettes and we proudly support the Children at Risk, a charitable organization providing services in the Greater Ottawa area to families of children diagnosed within the Autism Spectrum Disorders.

---
Back In Time To 1913 With Top Hats & Tails
On September 15, 2012, elegantly attired in formal black and sequins, the Capital Chordettes were delighted to open the Ottawa Little Theatre's 100th Season Grand Gala with rousing a cappella renditions of "God Save Great George the King" and "O Canada".

The Chordettes sang to a full house of theatre patrons, many dressed in period costume, who enjoyed a pre-show reception with speeches, followed by a lively performance of Noel Coward's Hay Fever.

During intermissions, the Chordettes continued to entertain the audience with a selection of songs from several decades.




---
From singing high "C"s to hitting off tees…Who knew fundraising could be SO MUCH FUN?!?

Over 90 golfers made their way to the Meadows Golf and Country Club for the 13th Annual BBC Charity Golf Tournament on July 11, 2012. This year the tournament was in support of the Make a Wish Foundation and in support of Children At Risk, a charitable organization providing services in the Greater Ottawa area to families of children diagnosed within the Autism Spectrum Disorders. Golfers set out to play a round of 18-hole 'best-ball' under beautiful blue skies. The Capital Chordettes registered 2 foursomes in the tournament. A 'swinging' good time was had by all those who attended!
---
Take me out to the Ball Game!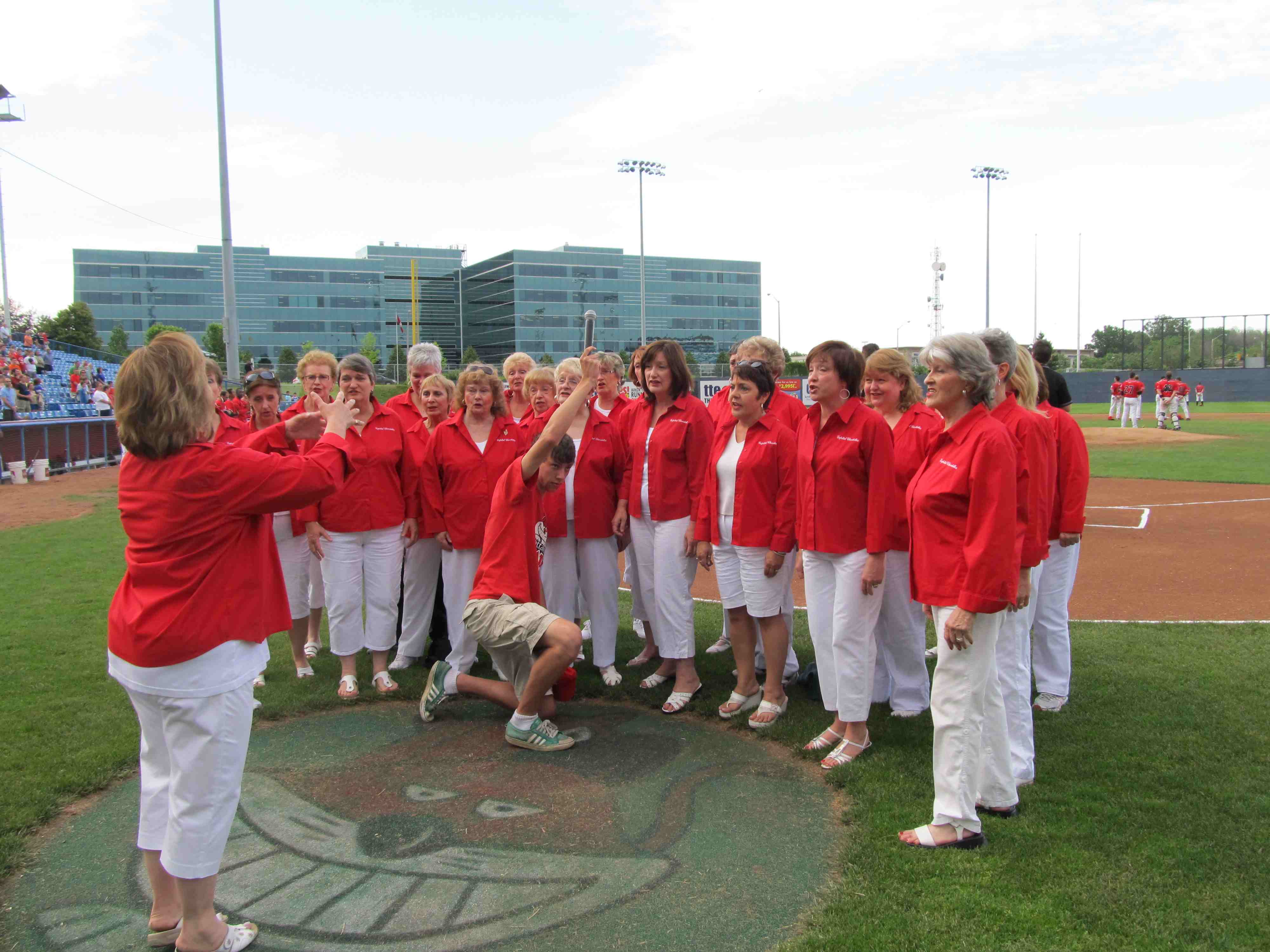 On Saturday evening, June 9, 2012 the Capital Chordettes welcomed Fat Cats fans with songs as they entered the stadium.The crowd was treated to such spirited songs as "You Can't Stop The Beat", "Rainin' Men" Any Man Of Mine", "Popular " and more. Then, dressed in red and white at home plate, the chorus opened the game with a patriotic performance of "O Canada".
---
Singin' in the rain – Just singing in the rain. What a glorious feeling…
Come rain or shine the Capital Chordettes love to sing and share a special blend of harmony with their audience. Threatening rain showers did not stop their beat as they performed under a huge tent at the Blackburn Hamlet Fun Fair on June 2. Also sharing some wonderful 4-part harmony was the Quartet "Sleepless" who performed an awesome rendition of Sentimental Journey and Slow Boat to China. "Holiday Harmony" brought smiles and high hopes of sunny days to come with their song Under the Boardwalk.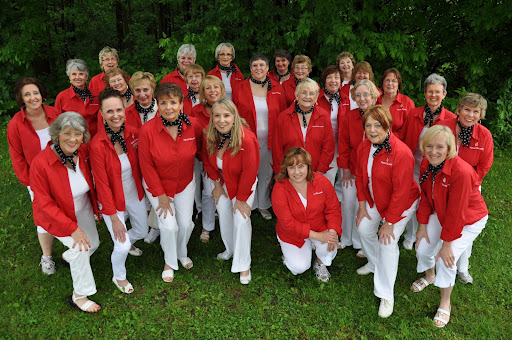 ---
Chords for Cornerstone

Some 200 people attended a "Chords for Cornerstone" benefit concert at St. Martin's Anglican Church in Ottawa on October 27, 2010 in support of the Cornerstone Foundation's 'Journey of Hope.' The concert goers were extremely well entertained by a program featuring the voices of Ottawa's Capital Chordettes, a women's a cappella chorus.
The funds raised were contributed towards the parish's 'Room to Grow' sponsorship campaign of a room in the new cornerstone building.