December 10, 2017 – The Capital Chordettes bring 4-part Christmas harmony to Manotick!

A favorite part of the Holiday Season, for the Capital Chordettes, is the joy of singing Christmas Carols. Sounds of their harmony filled the beautiful Manotick United Church on Sunday afternoon under the capable direction of Carolyn Henderson. An enthusiastic audience enjoyed a song selection that included Mary's Boy Child, Oh Come Oh Come Emanuele, sung partly in Latin, Marshmallow World, and Jingle Bells .
Holiday Harmony and Sweet A Cappella, groups of seven, got into the Christmas spirit performing Deck the Halls and Do You Hear What I Hear.
Featured that afternoon were quartets, Sounds Like Fun, with their hilarious rendition of You Ain't Getting Diddly Squat and Group Therapy who brought down the house with the haunting beautiful Huron Carol.
'Twas a beautiful way to get into the holiday spirit.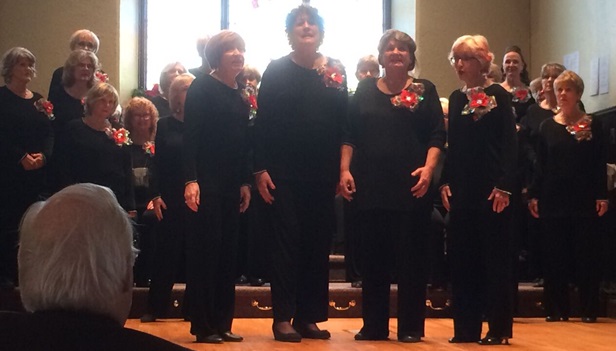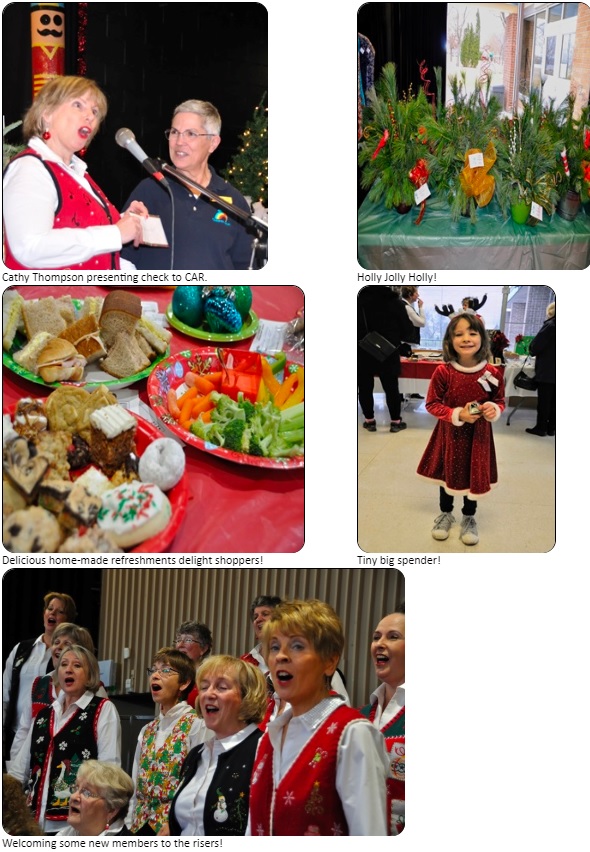 December 2, 2017 – Christmas Market & Concert

Christmas came early for the Children at Risk when they were presented with a check from the Capital Chordettes. As their chosen charity the Capital Chordettes financially support Children at Risk through their fundraising and performances.
November 12, 2017 – Songs for a Sunday afternoon!

On Sunday, November 12, The Capital Chordettes were enthusiastically welcomed at the Children at Risk's Annual Brunch. The Chordettes brought a splash of Christmas Spirit to the event as they performed some 4-part harmony for family, friends and guests attending the Brunch. Children at Risk is a community-based charity that provides programs, services and supports for Autistic children and their families. The Capital Chordettes financially support the Children at Risk through their fundraising events.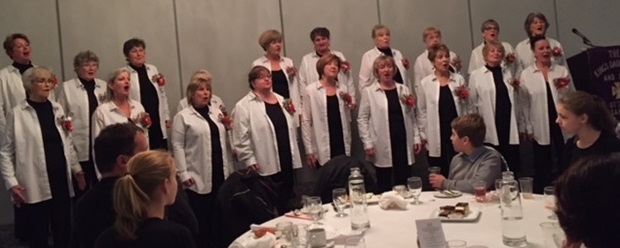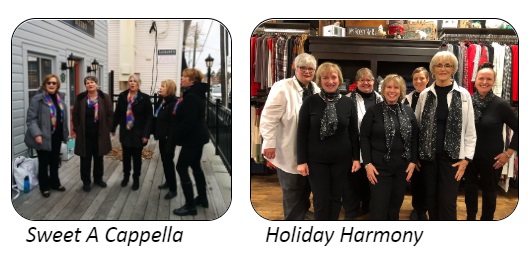 November 4, 2017 – Manotick Women's Day!

Members of the Capital Chordettes spend an amazing day in Manotick today as they travelled the streets entertaining the shoppers and people passing. Happy 10th Women's Day in Manotick! Thank you for your love and great singing Capital Chordettes!
October 28, 2017 – Celebrity-Carved Pumpkin Contest
The Capital Chordettes got into the Halloween spirit this year by helping out at the Celebrity-Carved Pumpkin Contest for Children at Risk. Chorus member, Laura Beales accepted the challenge and created an artistically awesome design! Other members enjoyed their time at the mall hosting the pumpkin tables and helping people with their bids.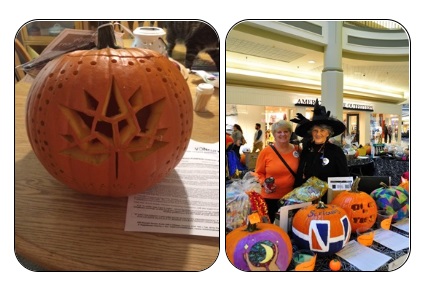 October 29, 2017

A group of Chordettes attended the show No Way to Say Goodbye: Songs of Leonard Cohen at the Gladstone Theatre on October 29. They thoroughly enjoyed this tribute to a legendary Canadian poet and songwriter, and were thrilled to participate in the performance of two of Cohen's most popular songs, Anthem and Hallelujah.
September 26, 2017

CAPITAL CHORDETTES rehearse and perform at the National Arts Center! A change is as good as a rest – so it is said. The Chordettes enjoyed a fun rehearsal when they recently brought their rehearsal to the NAC for an evening of harmony, fun and friendship. The venue was perfect for singing 4-part harmony. People attending events that evening were thrilled to be treated to some pre-entertainment.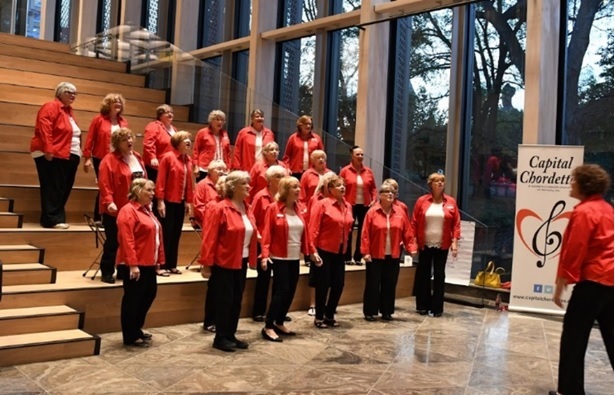 2017 June 25 – City View Community Association Roast Beef Dinner & Strawberry Social
Looking very Canadian in their Red & White they performed a fun repertoire of songs in their special blend of 4-part harmony including their renditions of the Rankin Family songs "Rise Again & Fare Thee Well. They completed their performance with the Serena Ryder song "Sing Sing". A fun time was had by all.
2017 June 12 – Garden Terrace Home
Holiday Harmony had a really good time singing at Garden Terrace home. We managed to sing a couple of songs in 8 of the 10 dining rooms at lunchtime and the residents seemed so pleased to hear us!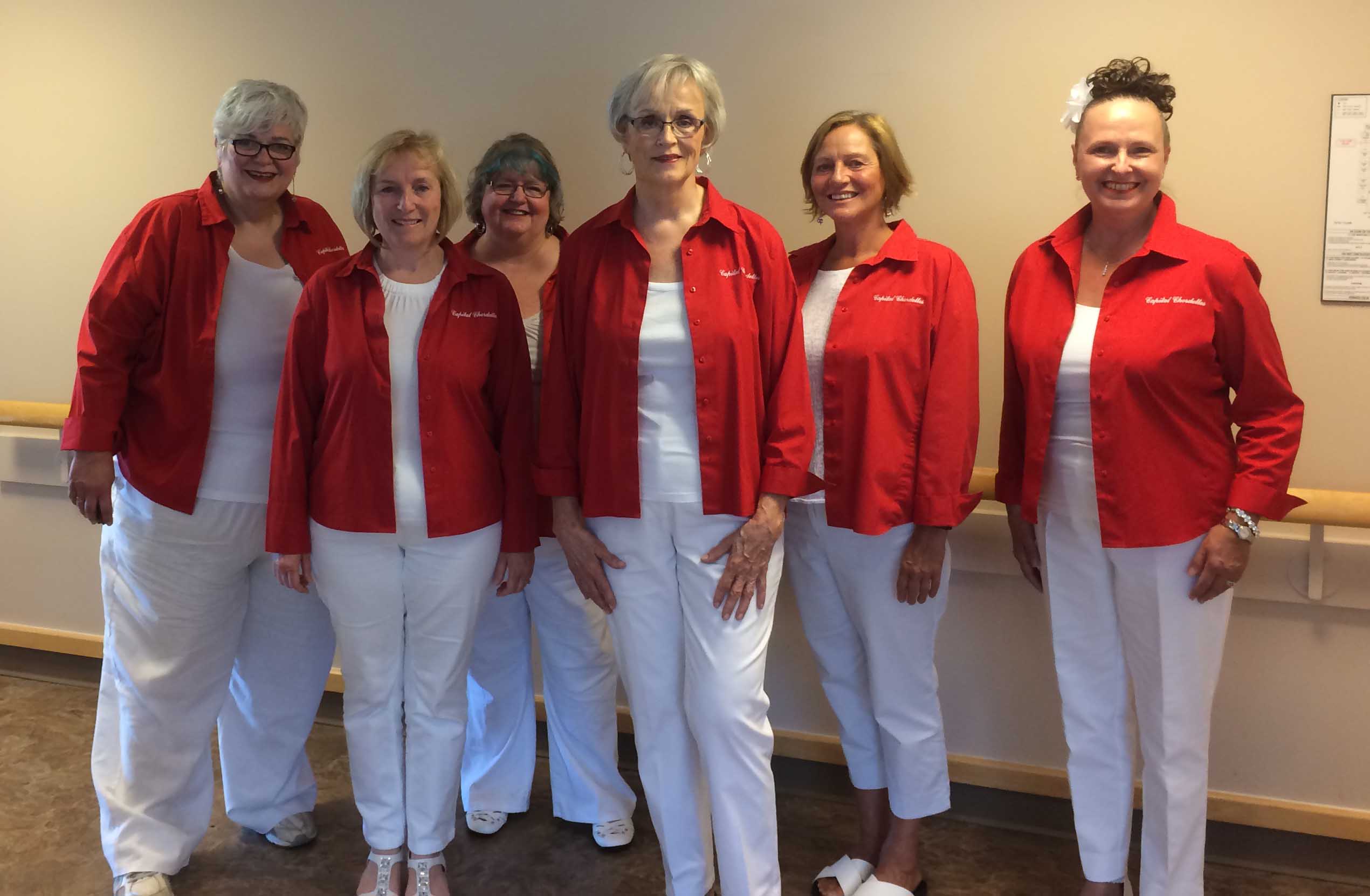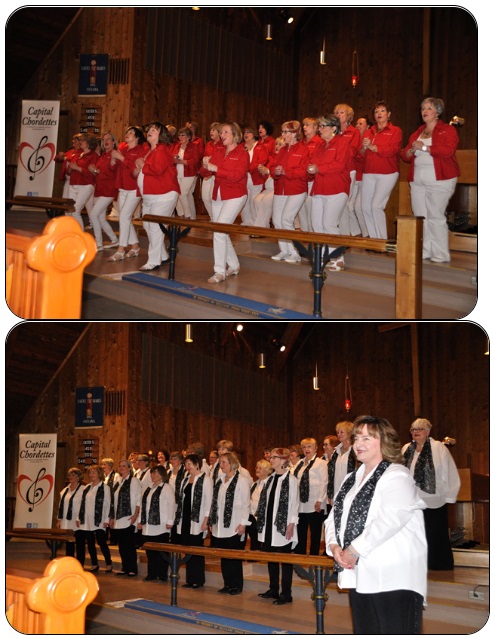 2017 May 13 – St Mark the Evangelist
Everyone needs a helping hand (or voice) now and then. The Capital Chordettes sang and danced on Mother's Day Eve to help the congregation of St Marks in their fundraising efforts. 4-part harmony filled the beautiful church halls as the Capital Chordettes performed songs old and new to a captivating audience.